---
By: Jaime Reynolds (@jumpingintights)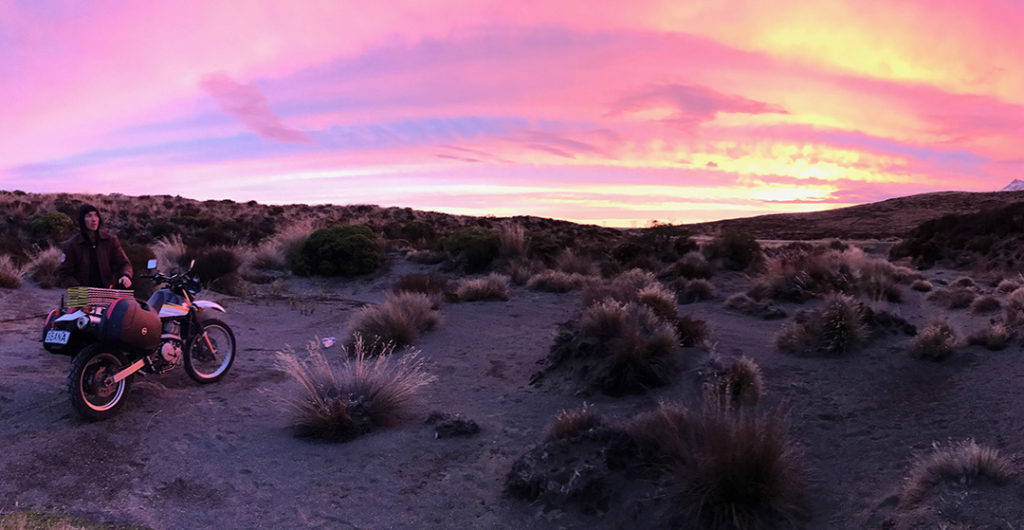 Sunset on the desert road.
It's taken me awhile to write this recap of our honeymoon moto mish around New Zealand. Fitting the entirety of our 24 day jaunt from tip to tail of both islands is a daunting task, and one that kept getting filed in the procrastination folder as life and work took priority. In a nutshell, the trip was an amazing adventure with my newly minted husband. I always try and keep my expectations open going into a trip like this. It's usually easy to anticipate the good, maybe we'll go swimming in all these cool places, or find some sweet dirt roads to get lost on, or see the magnificence of nature. The bad is something you know you can't avoid, but you can never anticipate the shape or severity of it. This trip was everything I dreamed of, and full of ups and downs. One thing that stayed pretty constant… it rained almost every day we were on our bikes, which is unusual for that time of year (Feb – March). It was the end of the riding season, but dang (!) those roads were still boasting bodacious curves through every type of landscape imaginable. Starting in Auckland, we headed south from Auckland Motobike Hire (shoutout to Randal!) on a drizzly Valentine's Day. My husband Clint recently got me a highlighter yellow rain shell and black rain pants to ride in. Although I felt like a nuclear marshmallow, I was thankful for an extra layer of high viz in the city traffic. Auckland is home to a little over 1 million of the 4.6 million Kiwis dispersed throughout both islands. Soon we would be cruising through hills of the north islands farmlands, leaving city life, and the majority of this country's population, behind.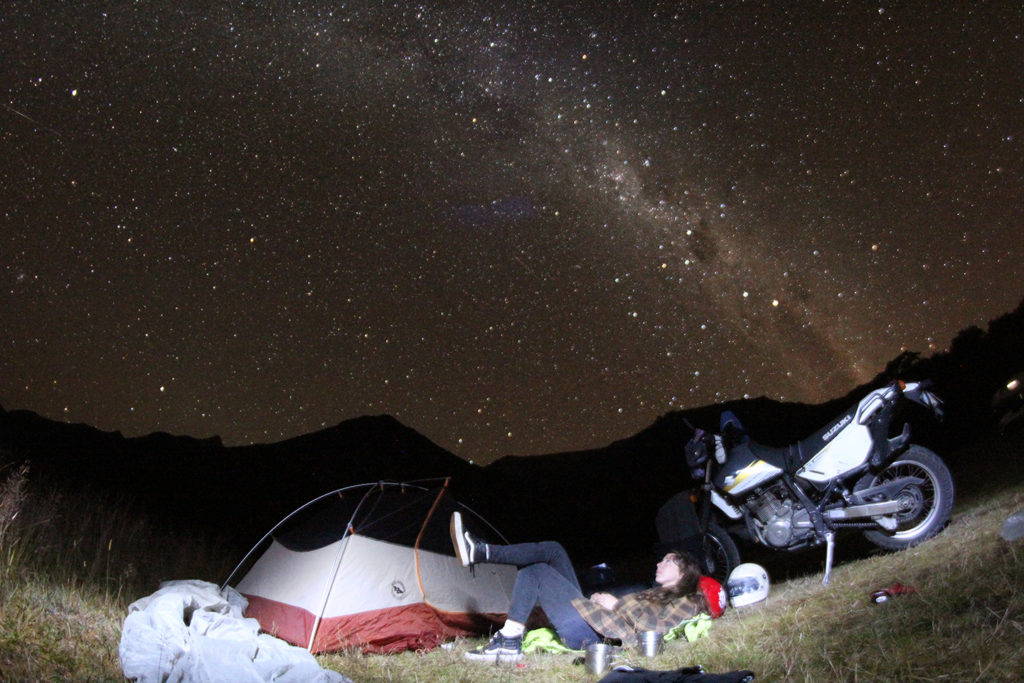 A starry night on our way to Milford Sound.
Let me take a minute to talk about my gear. We decided to roll on DR650s so we would be able to take cutty back roads and maybe find some dirt. If I could do it again, I would suggest road bikes. Although the DRs are economical, for such a long ride, I would have traded in the ability to go off road for the comfort of a cruiser. The DRs would have been perfect for a week or a couple days in the mountains… maybe next time

I also did not take off my ATWYLD Commuter Moto Jeans <3. I have been riding for 5 years now, but one thing a long motorcycle trip in a new country brought up in me is how exposed I felt. Riding can instill such a sense of freedom, but I've found it can also uncover this challenging fear. It's just you and your thoughts isolated in this bubble of a helmet. So much was unfamiliar. I was driving on the opposite side of the road, for one.  And I wasn't familiar with the driving culture. I was passing semi's and tourist busses and vans on the small window of straight, within a winding mountain road. At night there were rarely street lights, so we tried to do almost all of our riding during the day. Even still, there were times we had to outrun the rain, or race to the campground as dusk fled. As cheesy as it sounds, the Commuter Moto Jeans instilled this steadiness in me and my riding. I had my armor on when the ride felt more like a battle, and I could relax into a sense of safety when I turned my thoughts over the ever-changing, beautiful, scenery.
Here's a map of our route. We rode approximately 2,300 miles from the north island down to the bottom of the south island and back up again. We were on the bikes for a little over 3 weeks, setting up camp along the way. Each day we would search for good coffee (flat whites) and fuel up on snickers bars.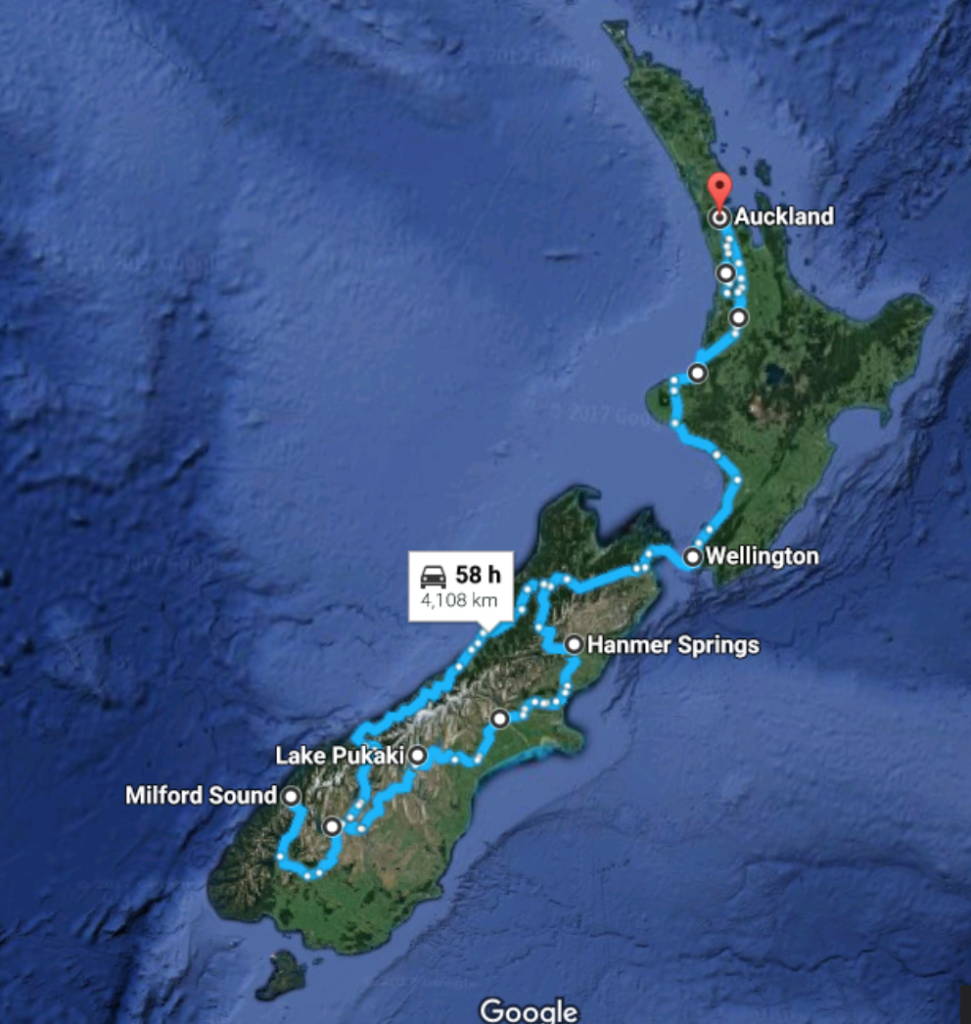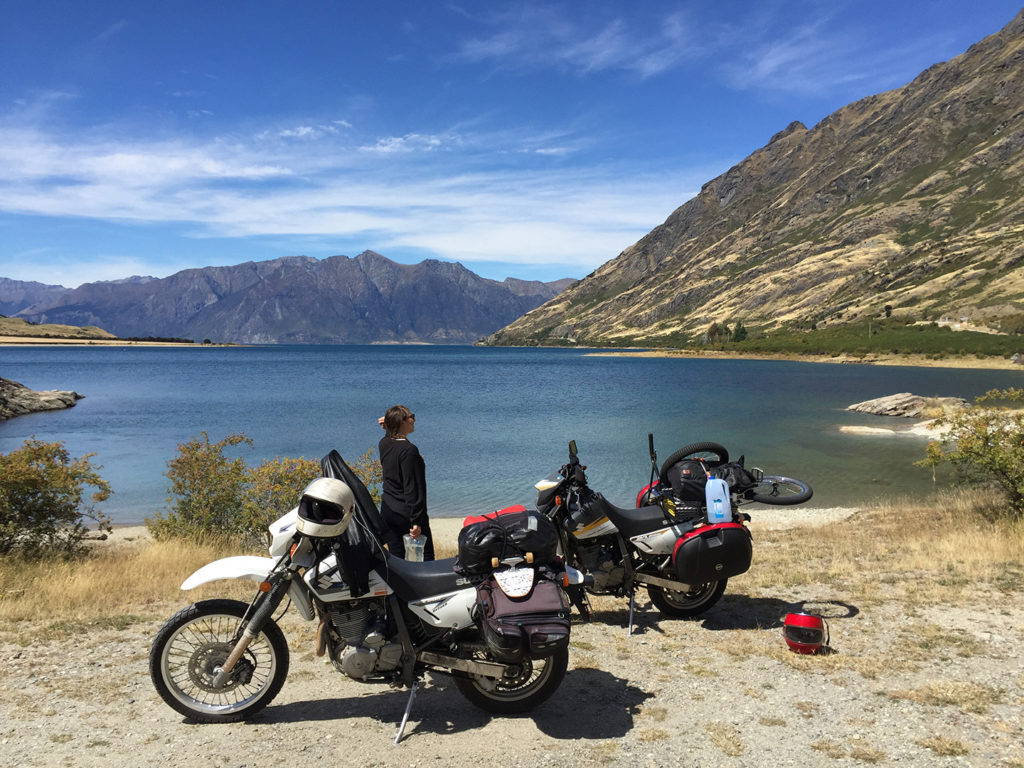 If you ever get the chance to go, there is so much to see and do. I didn't think four weeks would be too short, but somehow that was the case! If you do ride, I would recommend starting in Auckland and ending your trip in Queenstown on the South Island, instead of having to ride back up to Auckland again as we did. Catch the ferry in Wellington and if you can, spend a few days there. It's another great city filled with people of all ages, seeking adventure, from all over the world. It was awesome to see all the bikes and riders swapping stories when loading the inter island ferry to cross to the South Island and back. We definitely caught some attention since I had my skateboard strapped down to my rack and Clint had his BMX bike. "A bike on a bike!" people would exclaim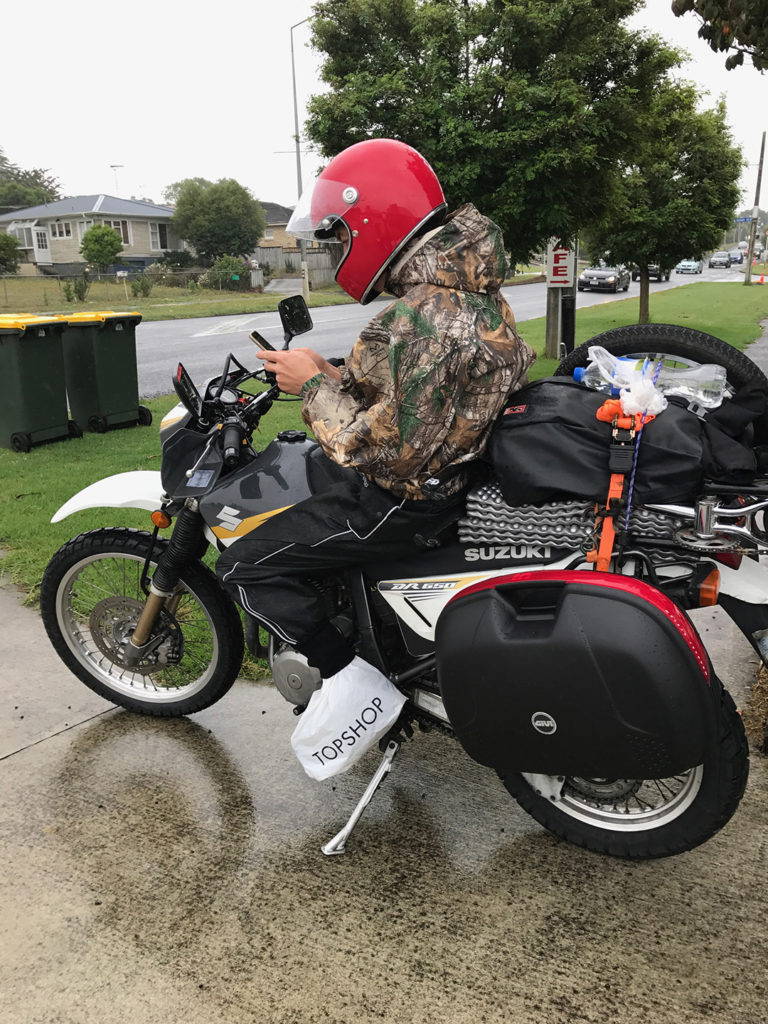 Top of the line rain gear and a bike on a bike!
Queenstown is also a must see. There are endless activities to get lost in. Make sure to swim in Lake Wakatipu, which is also a great place to have a beer and watch the parasailers practice their beach landings during sunset. Although the argument could be made that anywhere your finger lands on a New Zealand map is the most beautiful place ever, I would press the fact that Mount Cook was the most breathtaking. My mouth was permanently open in awe as we took the road heading right for it. A beautiful snow capped peak above white fluffy clouds. A backdrop to the almost un-natural looking ice blue water of Lake Pukaki… we definitely took a dip in that one.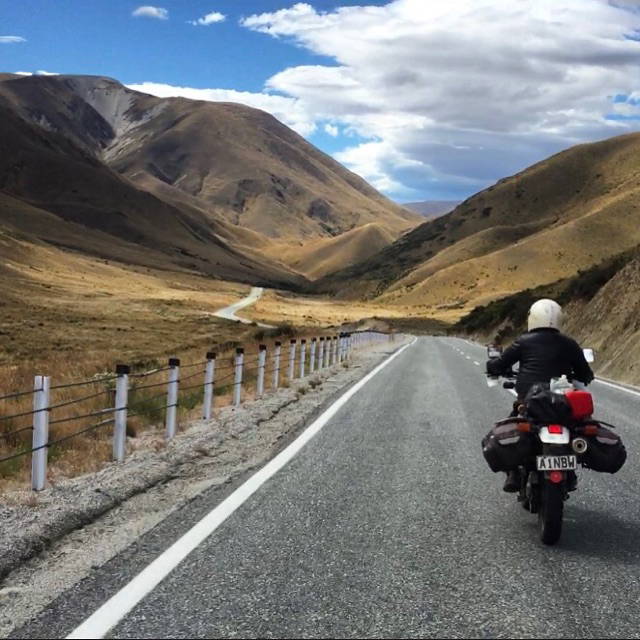 The road leading north from Queenstown.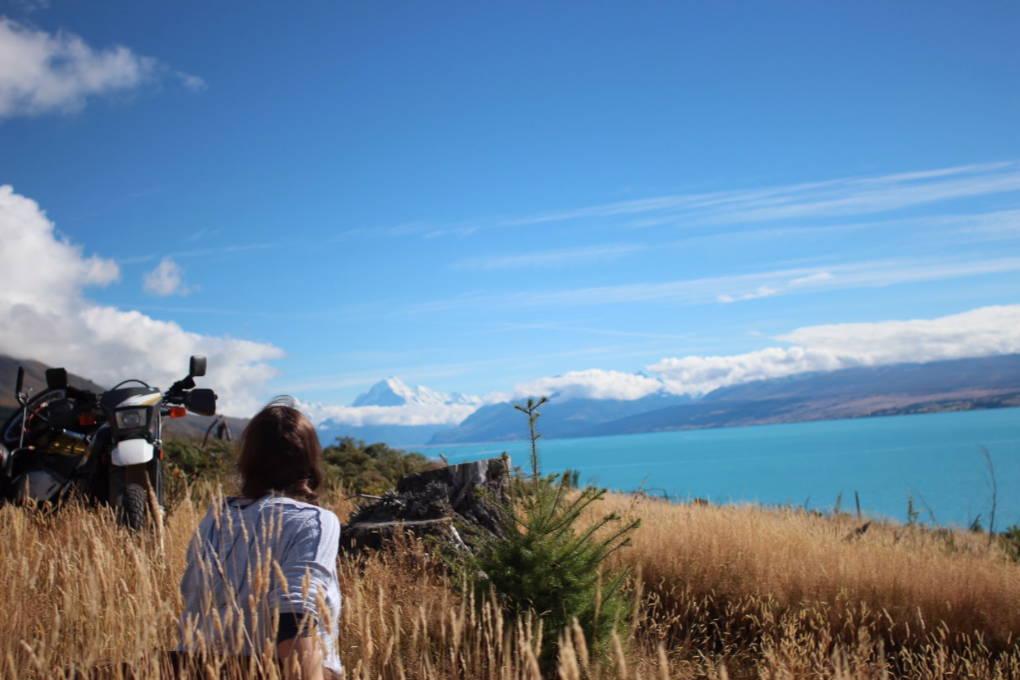 Mount Cook, with electric blue waters of Lake Pukaki in the foreground.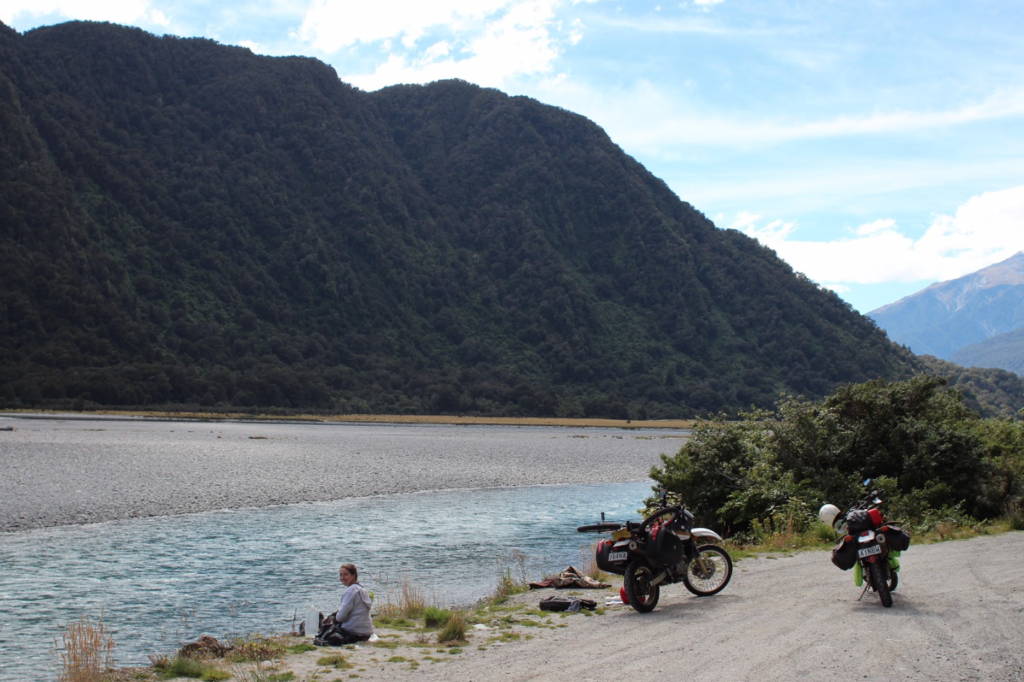 One of many roadside meals or Snickers stops.
 Jaime is a moto enthusiast who got the itch to start riding after spending a couple of years on the back of her boyfriend's bike. They now live together and split their time between a little airstream in Austin, Texas and Hudson Valley, NY. Peep what she finds inspiring and feel free to reach out @jumpingintights.