---
JAIME DEMPSEY HAS THE WILDEST SIDE HUSTLE A MOTORCYCLIST COULD DREAM OF

Jaime Dempsey takes a selfie somewhere in Southeast Asia. Photo provided by Jaime Dempsey.
She's ridden everywhere from the wild roads of the mountains of Kalinga in the Philippines to the teeming city streets of Kuala Lumpur in Malaysia, and she's done it on everything from a Harley-Davidson Sportster to a Ural to a Ducati Hyperstrada.
She got tattooed by a 96-year-old woman at the top of a mountain, hung out with the Independent MC of Brunei and swam with whale sharks. She might just have the wildest side hustle any motorcyclist could dream of.
We're talking about Jaime Dempsey's job. For two months out of the year, anyway. For the past four years, she has experienced all kinds of surprise adventures throughout Southeast Asia as the host of The History Channel Asia's hit series "Ride N' Seek." I say surprise adventures because other than telling her what country she's going to and which motorcycle she'll be riding, the production team has taken a liking to keeping her in the dark about what she's getting into until she's pretty much doing it. Think Anthony Bourdain's "No Reservations" meets "Fear Factor" on a motorcycle.
"It's like my alternate reality," says Jaime, who flies relatively under the radar in the United States. The show does not currently air here in the States, but she's a celebrity in Asia.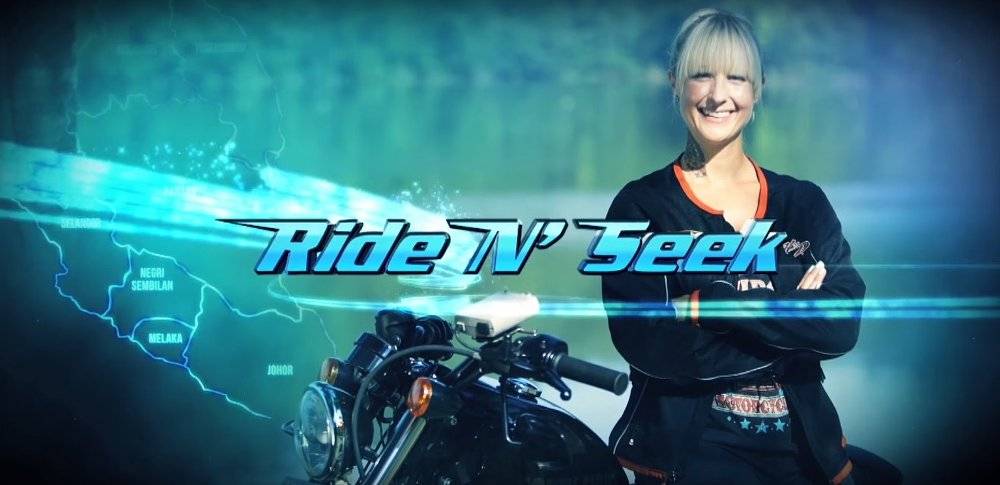 Because of her exposure on History Channel Asia, Jaime Dempsey is more famous across the Pacific than at home in California. Photo provided by Jaime Dempsey.
When she's not shooting, the other 10 months of the year Jaime lives out another dream, working as one of the founders and owners of a Los Angeles-based women's motorcycle clothing company called ATWYLD.
Yes. We know. We want to be her, too.
Not all of us have what it takes to balance running a company and hosting an international TV show. Then again, Jaime says that five years ago she never expected she would be doing anything like what she's doing today, either.
Prior to all of this, Jaime was commuting from West Hollywood to Costa Mesa on her Ducati Monster 695 to work as a product developer for swimwear at Volcom. She was first approached for "Ride N' Seek" in 2012.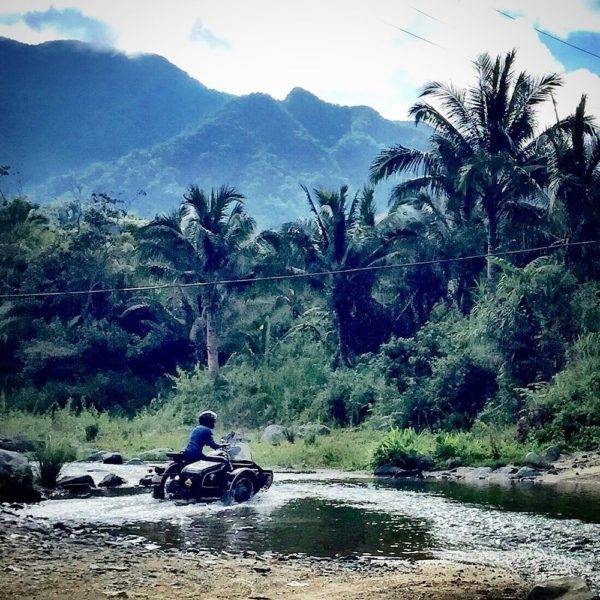 Exploring Asia on two wheels. Photo provided by Jaime Dempsey.
I really lucked out because my brother works for A&E networks," she says. "They had already actually shot a pilot with someone but they weren't liking the host and so he called me up and was like, 'You ride motorcycles. Do you want to audition to host this show?' And I was like, you're crazy, I don't know anything about hosting a TV show!"
Despite having zero TV experience, Jaime obviously had to go for it. Motorcycles had been a passion of hers for almost 10 years and she assumed this was a once-in-a-lifetime opportunity.
Film industry friends helped her put together a demo video. A week later she got a call that she got the gig and was going to Malaysia.
"I was completely terrified," she says of filming that first season. "I was excited to see Malaysia, but I just had no idea what it was going to be like. It's such a different culture. And to be in front of the camera the whole time! I didn't know how to do that and you can definitely tell."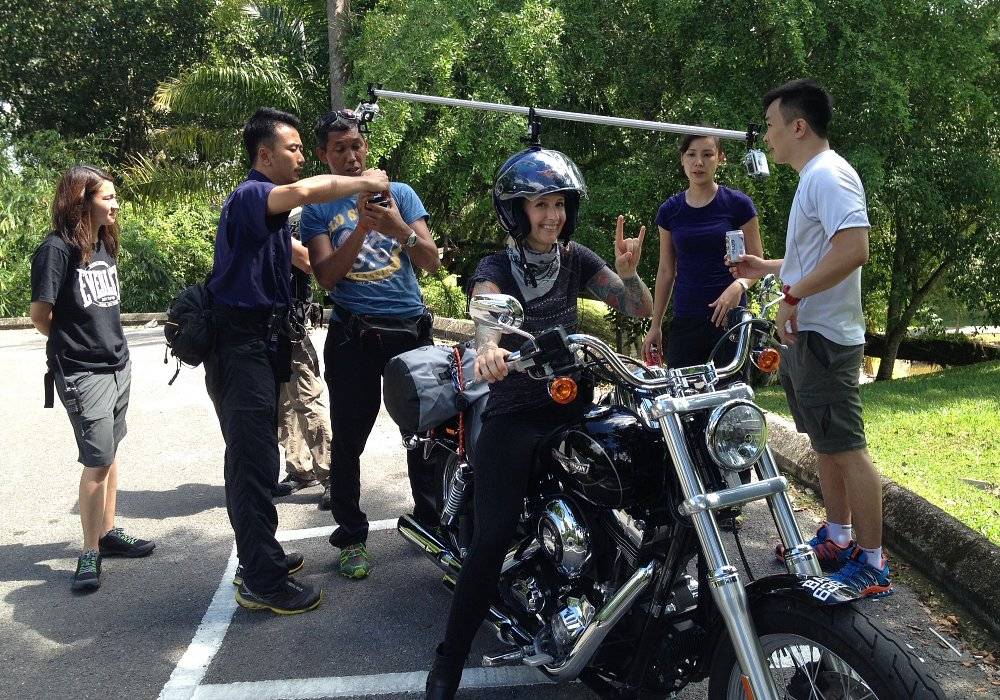 Jaime works with her camera crew to get a shot. Being a TV show host sounds glamorous, but there's a lot of repetitive shooting in hot places. Photo provided by Jaime Dempsey.
Jaime has come a long way throughout the last four seasons, but she remembers shooting season one feeling pretty apprehensive about how the people perceived this young blonde woman covered in tattoos riding around their country on a Harley-Davidson Sportster Forty-Eight. She generated quite a few stares while riding through some very rural towns, but she was only ever met with curiosity and hospitality.
"It was definitely an eye opener for me. People were just as curious about me as I was about them," she says. "I didn't have any bad experiences with anybody. People were just very welcoming and would invite me into their homes and give me food and tea."
The production spends months plotting out Jaime's missions, but they learned early on that her genuine reactions to the situations they get her into are more priceless than any script. They've put her through everything from giving a cow a pregnancy test (you don't want a visual) to getting a traditional Asian cupping massage (not nearly as nice as it sounds).
"It's kind of a formula," she says. "It's 'Let's do something to make Jaime feel super uncomfortable! Let's have her interact with some kind of animal! Let's have her get a little bit of culture.' And I get to do it all on motorcycles, so that's my reward."
Learning how to ride all kinds of new bikes was another feat she had to take on with an entire production crew watching her. While riding some of the most beautiful roads in the world might be tough to fathom as work, having to get three or four takes of everything to get different angles in countries that are often excruciatingly hot can certainly get challenging. This past season of the show, Jaime got a taste of the local moto culture riding a Kymco scooter
"To be honest, I was a little bit bummed at first that it wasn't a motorcycle," she says, "No shifting or changing gears or anything? But it was kind of cool to experience what the majority of people in Southeast Asia ride. The most common bike that people ride there is a two-stroke 125 cc underbone (a tube-frame motorcycle resembling a scooter) and they're fast little bikes! These guys really haul ass on them."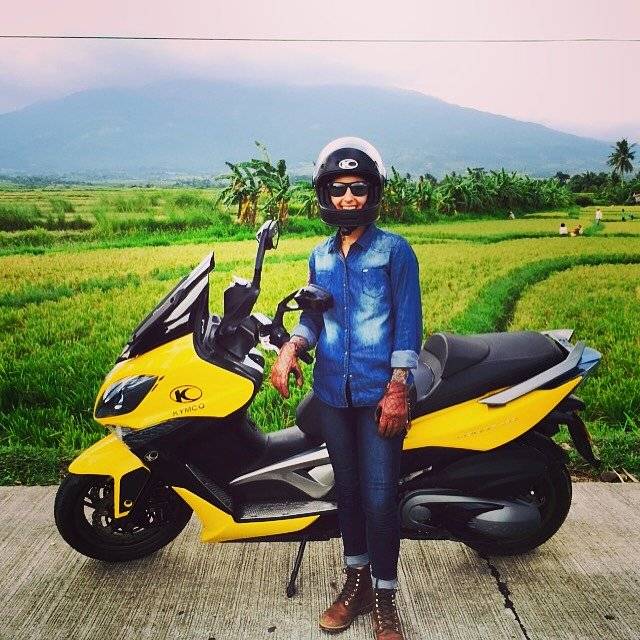 In the Philippines, one of her rides was a scooter. Photo provided by Jaime Dempsey.
One of the memorable roads she traveled on is considered one of the most dangerous in the world: Bitukang Manok, an endless series of hairpin turns in the mountains of Kalinga. It is appropriately referred to by the locals as the Chicken Intestine Road.
"There's no barriers on the side of the road and the view is just rice fields and green mountains. It's mind-blowing how beautiful it is," she says.
When she could ride no further, she hiked two hours up a trail to to the village Biskala, where a 96-year-old woman named Fang Od is the last tattoo artist practicing the traditional art form of her people.
"I sat in this little bamboo hut on the edge of a cliff overlooking these rice fields and I got tattooed by her using a thorn from a lime tree and some charcoal," Jaime says. "An interpreter helped me talk to her while she was hammering away at my shoulder. I never would have had that experience if I didn't do the show. In the middle of the tattoo it started pouring down rain. Like, thunderstorm rain. It was just so dramatic. I get goose bumps thinking about it. It was just such a magical experience."
Other adventures were less than magical, but still a learning experience. Her first time riding off-road was also on camera in season two, when they sent her down a 16-mile trail at the base of a volcano in the jungle of Borneo.
"It was a Ducati Hyperstrada but it had street tires on it! They should have put dirt tires on that bike. I have a feeling they might have done that on purpose to create a little drama. I don't know, put my life at risk," she says, laughing. "They put all these GoPros on me and they were like, 'Jaime, go down that road.' And I was like, 'I've never ridden off-road! I don't really know what I'm doing!'"
Just as she was starting to feel a little comfortable, she came to a spot where thick mud covered the trail.
"I don't know how to handle mud! Am I supposed to brake? Am I supposed to not brake? So I was like, well, just keep going and see if you can get through it," she recalls.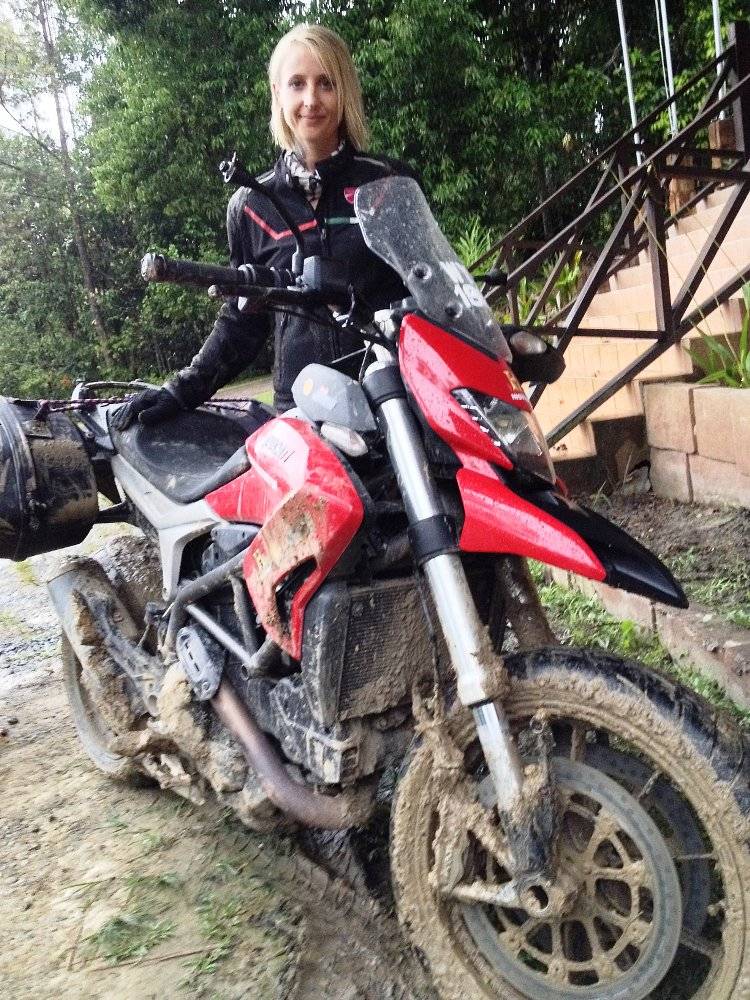 A Ducati Hyperstrada turned out to be a poor choice for a muddy trail in Borneo. Unless your goal is to get good television footage. Photo provided by Jaime Dempsey.
The result was predictable, as she skidded and flew off the bike.
"I think that was also the first time I'd ever really been down on a motorcycle, too," she says. "It was all caught on camera. History Channel played that clip over and over and over again."
Whether it was going down for the first time or just seeing women riding throughout the world, somewhere along the way she began to think about bringing her apparel experience to the table to create women's motorcycle gear.
In 2014, she was back home in California riding her Triumph Bonneville on the Angeles Crest Highway with her partners Corinne Lan Franco and Anya Violet, co-founder of Babes Ride Out, when they began developing the concept for ATWYLD.
"We were trying to describe that feeling, that single moment right in between fear and thrill," she says. "You know? When you're coming around a bend a little bit fast and it's tight and you got that little bit of scared in you but you're like, 'Fuck, this is awesome. This is so exciting.' You're in that wild moment in time. Yeah. At wild. It's the perfect descriptive word for that."
With just one collection out so far, ATWYLD has already been very well received. The clothing is all made in America and incorporates some of the industry's best technical materials, like D3O and Kevlar. The second collection should be out by spring.
"There was a serious lack of clothing for women and this new generation of female riders who may not necessarily be gearing up to ride on the track," she says. "You know, we're maybe not wanting to wear chaps with fringe and stuff like that but we want to look stylish, we want our normal aesthetic. We want to wear skinny jeans. We want to look good and have these protective things hidden in it."
As the company continues to grow, it is getting harder for Jaime to step away to shoot Ride N' Seek, but she is planning to shoot another season next year either in Indonesia, Australia, or Japan. Until then, she'll be living her alter ego California dream.
"I really have to pinch myself a lot of the time," she says, "I had no idea that my life could be anything like what it is now. I can't imagine it being better. You know I never really planned any of this but I'm always looking for new opportunities and new experiences and I think you just have to be open to that. New people, new experiences — kind of open yourself up to the world and things will happen!"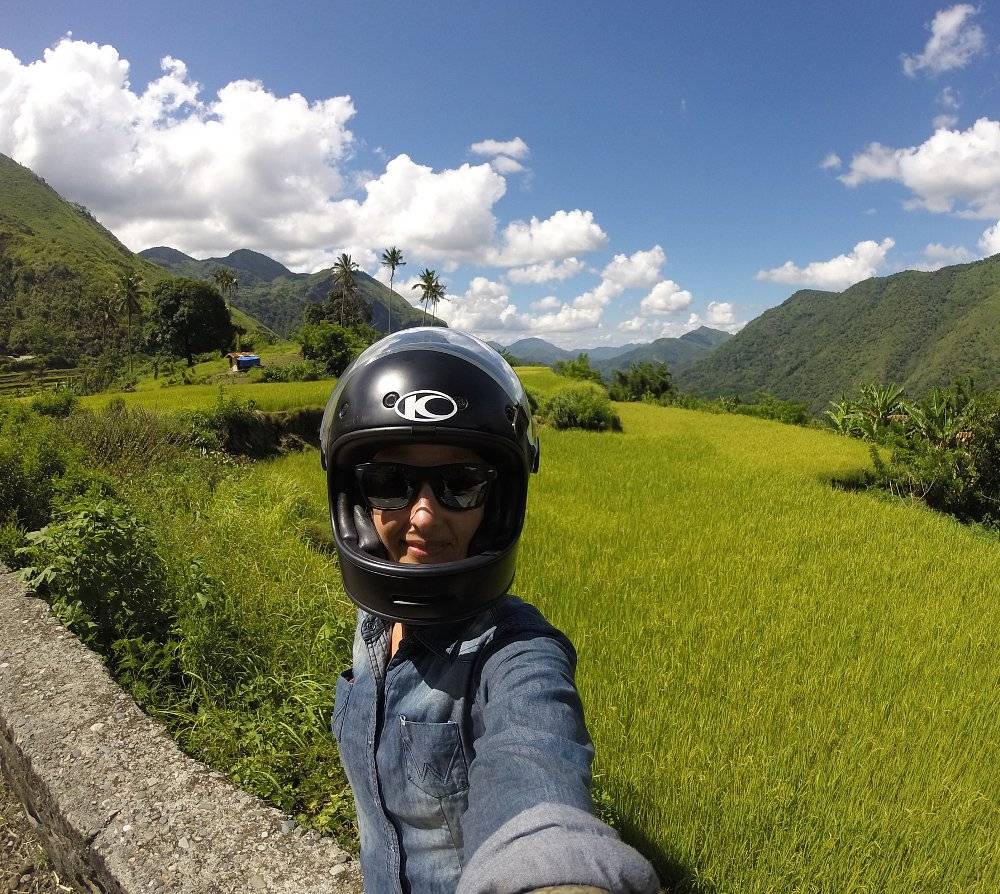 Five years ago, she never imagined she'd be here. Photo provided by Jaime Dempsey.