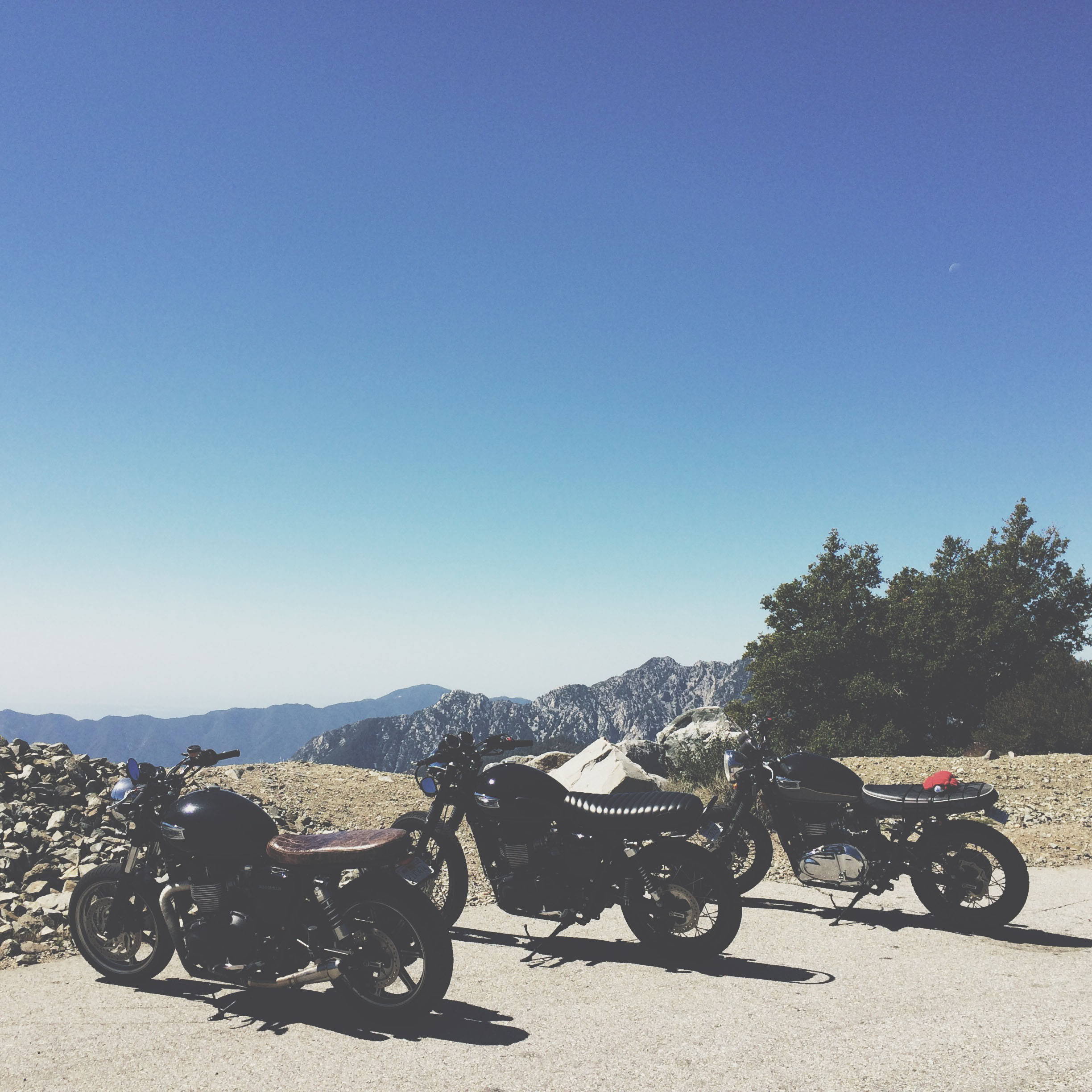 The idea for ATWYLD came when the 3 of us were riding Angeles Crest one day. We stopped for lunch at Newcomb's Ranch and as we sat down to eat, we noticed that all 3 of us were wearing black skinny jeans with zero protective qualities and fashion leather jackets that would likely split right open in the event of an unexpected slide. We talked about how proper technical apparel for female motorcyclist was severely lacking when it comes to versatility on and off the bike. Each of us had varied backgrounds in the apparel industry and we decided that day, that we were going to fix this problem immediately.
ATWYLD was born!
Anya grew up with a dirt background and raced motocross and rode trails throughout her childhood. After a few bike-less years going through college and in the early part of her career as an apparel designer she got back on two wheels. Now the proud owner of a 2013 Triumph Bonneville, a 1977 Yamaha DT 400, a 1991 Harley Sportster and a 2002 Yamaha WR426, motorcycles have become, yet again, a central part of her life. As the co-founder of a women's only motorcycle campout called Babes Ride Out; Anya has heard so many of the attendees complain of having such few options to choose from when it comes to moto apparel. With over 11 years as a apparel designer Anya is so excited to mix her expertise in design with her love of riding motorcycles to help bring you a collection of technical apparel designed specifically for the modern woman who rides.
Jaime has always had a love for travel and adventure. She began riding street bikes 10 years ago, and has since owned bikes including a 1973 Yamaha XS650, 1988 Harley Iron 883, 2011 Ducati Monster 695, and currently a 2014 Triumph Bonneville. Jaime was able to combine her love of travel and motorcycles with a job hosting 4 seasons of a travel documentary show called Ride N Seek on History Asia and has ridden all over Malaysia, Borneo, Brunei, and the Philippines. Even in places far from home she encountered other female bikers with the same complaint about the lack of stylish yet protective moto clothes for women. After working several years as a product developer in the surf industry she finally met two like-minded biker babes with the same desire to create clothing for the female rider, and the experience in the apparel industry to back it up. Jaime is proud to be a part of producing Atwyld's first collection and can't wait to develop the future lines ahead.
Corinne grew up ripping around on her 3 wheeler ATV and throughout her childhood, it had always been a dream of hers to ride a motorcycle. Not one to take dreams lightly, Corinne finally got her first dirt bike in her early twenties which quickly led to owning an assortment of motorcycles throughout her life. Currently in her stable is a 2006 Honda 230CRF, 1978 Suzuki GS550, and a 2014 Triumph Bonneville T100.  Passionate about putting a layer in between the rider and the road, Corinne was thrilled to join forces with Anya and Jaime and lend her creative vision and extensive graphic design skills to help create the ultimate fashion and functional product.