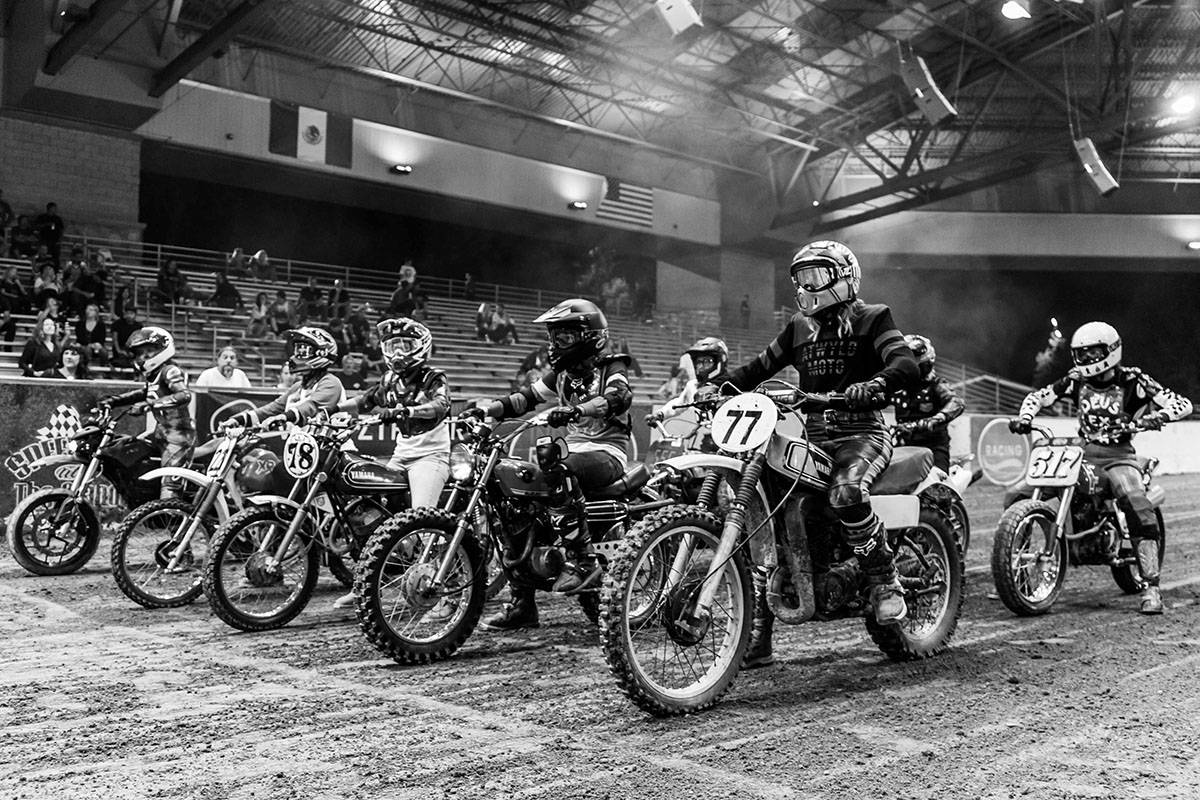 This past Saturday night we all gathered at Industry Hills Expo Center to Race a bit of Flat Track with our friends at Hell on Wheels. There were classes for all, including: Pull start minis Mini bikes up to 100cc, Mini 150cc ,Class c Brakeless 500cc, 1967 and earlier, Vintage pre 75, Modern 1980+, Open Twins and British Singles, Bomber 75-80s motocross bikes and dual sport, @thespeedmerchant Super Hooligan,@mikedavis70 Handshift Class and of course the Atwyld Ladies Race. We never miss a Hell on Wheels race! There is something about the mixed bag of bikes and people that all come together for a day of good times in the dirt. Half the fun is seeing who's bike parts are going to end up in a pile in the middle of the track. Meatball and crew have been putting on these races for years and Atwyld was really stoked to be sponsoring the Ladies only race which is a run what ya brung kind of race full of different riding abilities and bike sizes.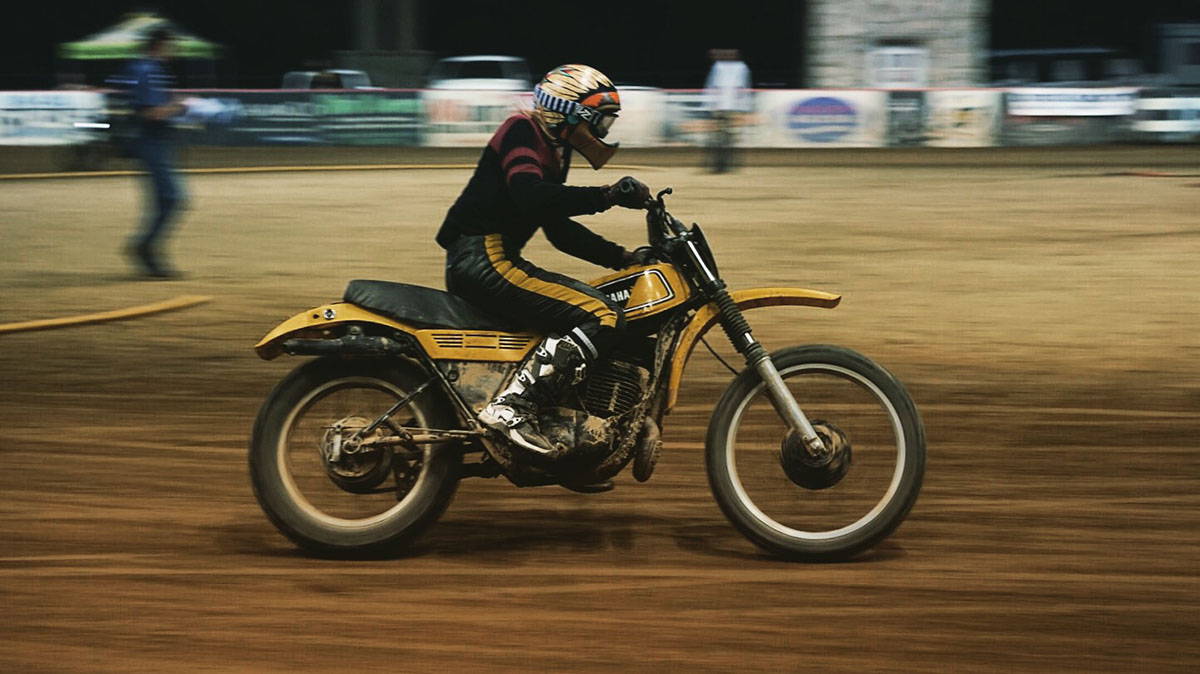 I brought my 1977 Yamaha DT 400 two-stroke. This bike and I have been through a lot together and it has left many a part on the tracks after a Hell on Wheels race. I will never forget when my headlight shattered after landing the table top in front of the stands at Milestone and some track-dad with his peewee kids just shook his head at me disapprovingly. Whoops! But Hot August Nights is about flat track which is something I am not experienced in at all. I have only ever tried flat track once before. There are a lot of reasons why I would really like to improve my skills around a flat track. Firstly there is just so much history to it and growing up watching movies like On Any Sunday I have a lot of respect for the roots of the sport. Secondly, There is a ton to be learned from mastering the art of flat track especially when it comes to body positioning and clutch work (I have a long way to go). Thirdly, because there is nothing more badass than watching someone pitch a bike completely sideways and come sliding around a corner looking like they are on the brink of losing it but are actually completely in control! I got to see a lot of that on Saturday night. So much respect!!!
I haven't got a chance to spend a lot of time on a flat track so I was watching a lot of videos and asking some friends for pointers. All of which seemed like I might totally be able to put to use and get a little sideways on the track. Well, Not so much! haha. True to form I went straight into it on the first lap of practice and slid right on out laying my bike down dragging my knee through the dirt for a few feet. Note to self: always take it easy on the first few laps. Someday I will start listening to my own advice but usually my excitement gets the best of me and the throttle just turns… I swear! Despite a bit of a spill during practice I started to find my line and start working on the techniques I had learned.
As always ladies go first! The class consisted of 8 of us ladies on a bunch of different bikes from a Zero electric bike with street tires, to a 1200cc Harley Davidson to a Bulltaco that had just been put back together that morning. From 90cc's to 1200 cc's all in one race. Thats what makes it fun! We all get to know each other throughout the night if we didn't' already know each other from precious Hell on Wheels races etc. Here was the line up:


@Tamararaye on a borrowed vintage yamaha 125
@Jessiegentry of @thevelvetsmc on her 1200 cc Harley Sportster
@xxboyd_boydxx of @thevelvetsmc on I don't know what
@maileibailey on her 90cc vintage suzuki
@triplenickel5555 on her vintage Bulltaco
@scoops1878 on her vintage yamaha
@roachxclit on her vintage yamaha
@stellarplum on her Zero bike
me @anyavioleyuniverse on my yamaha DT 400
We all had a kick ass time and one of the coolest things about going first is that you get plenty of time to watch the other races! Can't wait for the next one!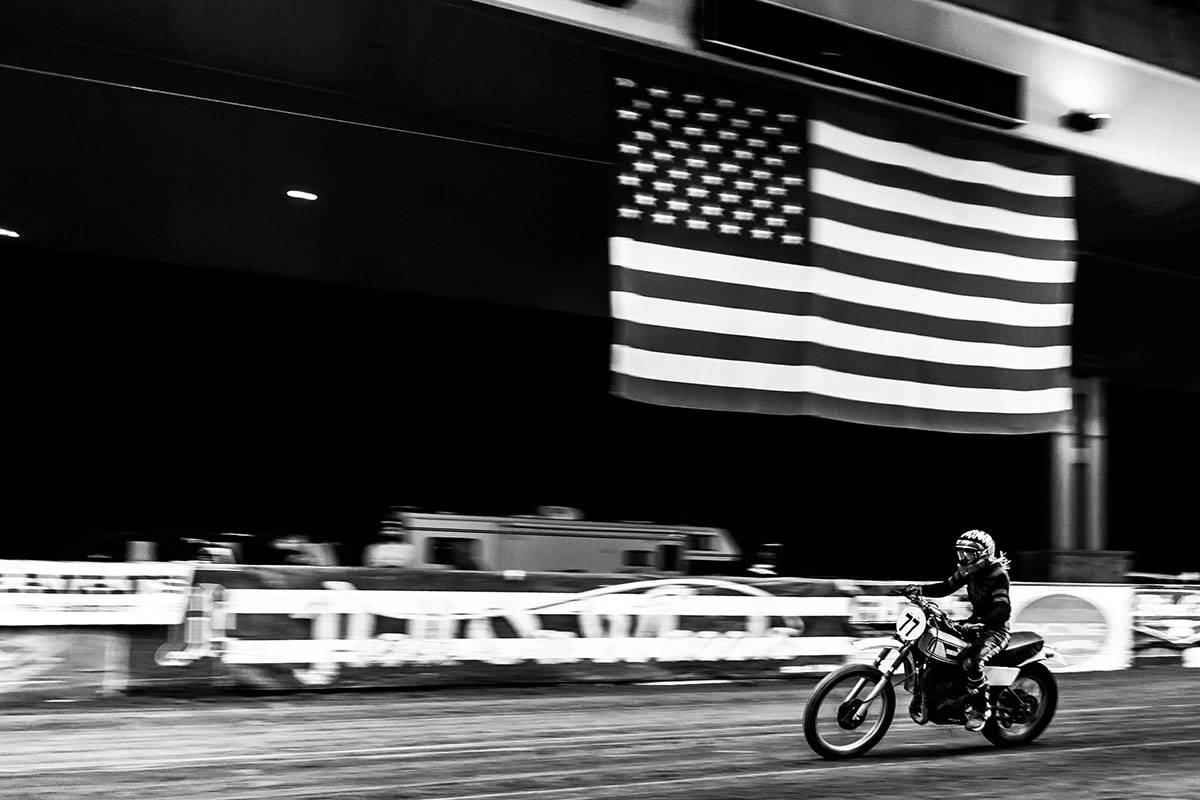 Mailei won herself an ATWYLD Tracker Jersey!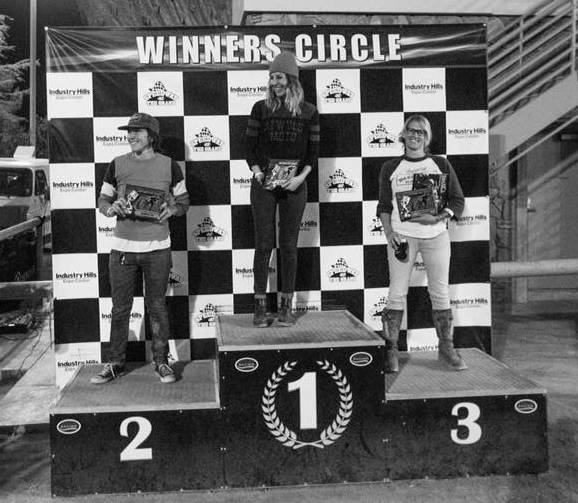 Team Atwyld Took home a first place trophy!